Handover of SEDM Chairmanship-COMSEEBRIG
Speech of Alternate Minister of National Defence, Dimitris Vitsas
for the SEDM Chairmanship and COMSEEBRIG handover-takeover in Tyrnavos, on 23 Aug 2017
"Dear Ministers,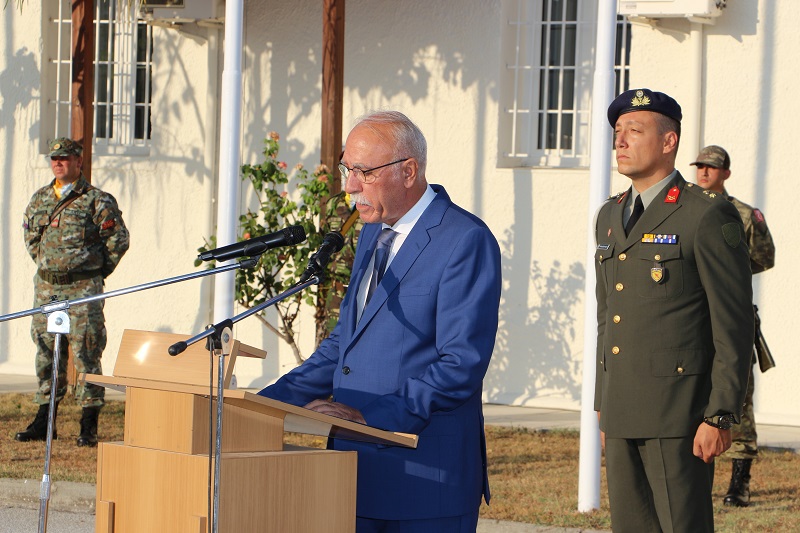 Ambassadors,
Generals, officers,
Distinguished guests,
Ladies and Gentlemen,
It is both a great honour and pleasure to welcome you to SEEBRIG headquarters in Tyrnavos.
I am particularly delighted that I address representatives of countries with which we share the same concerns regarding security and the future of South-eastern Europe.
We ought to never forget that our region has historically been a spot of several disputes that have triggered conflicts which marked even the future of humanity. Today, I am sure that our people, having already learned their lessons from history, have only one single desire, which is the consolidation of peaceful co-existence.
Admittedly, the SEDM process is an initiative serving this wish of our people, strengthening, at the same time, good neighbourly relations.
Therefore, I would like to welcome the assumption of the Chairmanship of the South East Europe Defence Ministerial Coordination Committee (SEDM-CC) and the Politico-Military Steering Committee (PMSC) of the South East Europe Defence Ministerial (SEDM) Process from my country, being conscious of the responsibility it takes over, given the fact that we live in a fast-changing, volatile and instable global and regional environment.
In these times, Member States, international organisations but also regional initiatives, such as the one we participate in and for which we are here today, are called to face and manage new challenges that threat regional and international security.
At this point I would like to stress that Greece is prepared, as a member of the main International Organisations and as a State which promotes peace and international law, to cooperate, in the framework of SEDM-CC and more generally, in order to deter and address any eventual threat.
Through the SEDM process, we can be impressively successful in every possible effort, to maintain and further strengthen the relations of trust between the States and the citizens of our region.
My conviction is that the benefits we can draw when we cooperate are far more numerous and valuable than those we owe to leave to the past.
It is time to permanently put aside the prejudices, the hesitations and any negative stereotypes of the past.
To future generations, we owe to create new paths of cooperation. To proceed with a new rhythm, under a new perspective and with a new momentum.
Economic growth, prosperity and the progress of our people should be our sole guide.
History teaches us, again, that the quality of life and the wellbeing of our people cannot only be guaranteed by the tools and mechanisms of defence, if not accompanied, in parallel, by well-governed states, a high level of social cohesion, welfare, solidarity and a high degree of efficiency of our democratic institutions.
It is clear to us all and my belief as well, that stability and economic growth have a two-way relation.
The economic growth cannot be perceived without stability, nor can stability on its own lead to economic growth.
The wider region of South-eastern Europe offers remarkable opportunities for business cooperation, as it is a place where large energy corridors and routes of international trade converge. The challenge of ensuring energy security increases the need for cross-border cooperation between our countries, more than ever.
The SEDM initiative, takes place in a significant interestingly region and problems. At this point allow me to refer to the refugee issue. The past two years, Greece and especially Greek Armed Forces, managed to deal with success, an unprecedented issue with international dimensions and always with respect for human rights. Important was the normalization of refugee flows by the European Union - Turkey agreement which we believe, will benefit everyone. In any case, stability, cooperation, progress and peace are needed to our region.
Additionally, taking into account that our region is regularly affected by heat waves and forest fires, it is imperative to open the dialogue in order, on the one hand, to deepen the cooperation in addressing natural disasters and providing relief to affected populations, and on the other, to consider putting in place a coordinated procedure for forest fire-fighting.
Ladies and Gentlemen,
Priorities of The Greek Presidency are:
To maintain and strengthen the stability through the initiatives it will undertake under SEDM to enable co-operation in the fields of economy and growth. The multi-national South-East Europe Brigade (SEEBRIG) which is the military arm of SEDM constitutes an indication of practical cooperation between our countries and of their will to strengthen security and stability in our region.
To foster the promotion of additional initiatives in our region, such as the Centre for Security Cooperation in South-eastern Europe, RACVIAC, aiming at the consolidation of peace in our region.
To encourage synergies with other organisations such as the UN, NATO, the EU and other partners, on all issues of mutual interest and concern.
To support actions of solidarity, social cohesion and implementation of international law for the benefit of our citizens.
To promote any dialogue attempt for the further development of SEDM in order to meet the new security challenges.
In order to guarantee the success of our mission, I'd like to say that this depends on both the broad and substantial way to achieve the objectives of the cooperation in actions and initiatives of all SEDM members and also, on our real intention to introduce principles and values that will shape good neighbourly and solidarity relations between our peoples. The Greek Government intends to support and encourage this effort.
Before I close, I'd like to thank both the former Chairman of SEDM, Ambassador Mr Levent BILGEN, and the outgoing SEEBRIG Commander, Brigadier General Faruk METIN, for their valuable contribution to the overall effort for security, stability and peace in the region.
I would also like to wish, every success in the difficult and demanding task of the new Chairman of the South East Europe Defence Ministerial Coordination Committee (SEDM-CC) and Politico-Military Steering Committee (PMSC) of the South East Europe Defence Ministerial (SEDM) Process, Ambassador Mr Eleftherios Anghelopoulos, as well as of the new SEEBRIG Commander, Brigadier General Tudorica PETRACHE.
Thank you."
Speech of Eleftherios Anghelopoulos, Ambassador
a.h.
for the SEDM Chairmanship and COMSEEBRIG handover-takeover in Tirnavos, on 23 Aug 2017
"Ministers,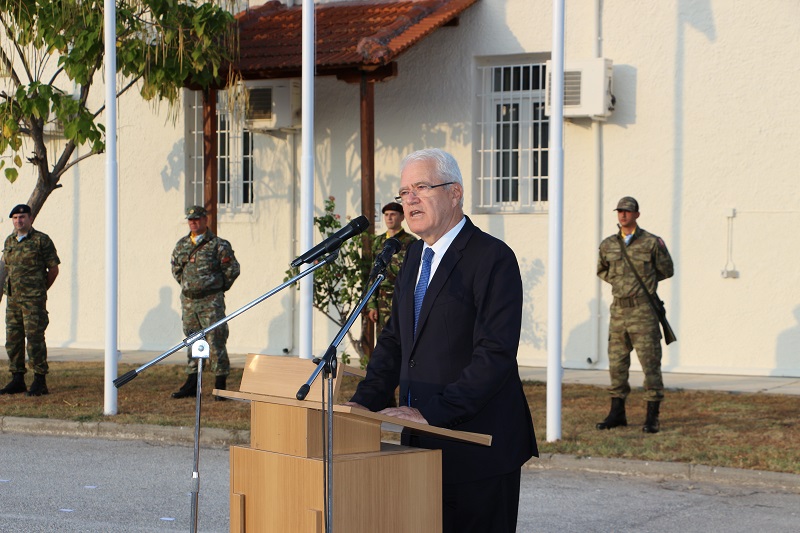 Excellencies,
Generals, Officers, NCOs, Soldiers,
Ladies and Gentlemen,
Dear guests,
It is a great honor and privilege for me to take-over the responsibilities as SEDM Chairman for the next two years.
First of all, I would like to express my sincere appreciation to the outgoing Chairman Ambassador M. Levent BILGEN and his secretariat personnel, for their tireless efforts during the last two years, and their warm hospitality offered at our meetings, and congratulate them for their accomplishments.
Let me also underline the contribution of the previous Chairman Ambassador Hüseyin MUFTUOGLU, who built the foundations of the successful performance of the Chairmanship and presided over many productive meetings of the initiative.
Ladies and Gentlemen,
Αs the Chairman of the Process until July 2019, I will focus on our close cooperation with all the member nations of our initiative, based on our fundamental principles, in full respect of International Law and good neighborly relations, with a view to strengthening stability and security in the region of Southeastern Europe.
I would like to assure all of you that both the staff of the Athens Chairmanship Secretariat and myself will work together with the Member States of the initiative to make SEDM more relevant to the security challenges of our region, useful and effective in enhancing regional stability in SE Europe.
Given the fact that SEDM provides a valuable political and military framework, and promotes our common security goals, we will keep the initiative transparent and open to other nations in the wider region which could contribute constructively to our efforts.
I strongly believe that current projects and activities of SEDM Process and more concretely the Interconnection of Military Hospitals (IMIHO), SEDM Official Portal, Female Leaders in Security and Defence (FLSD), Building Integrity (BI), as well as the Southeastern Europe Simulation Exercise (SEESIM), are very important and we will explore ways to enrich them and increase their effectiveness.
Furthermore, Greece, during its Chairmanship, will continue the ongoing efforts to revitalize the SEDM Strategic Review and to finalize the work on the drafting of 6th Additional Protocol of the Multinational Peace Force South Eastern Europe Agreement.
Ladies and Gentlemen,
Allow me also to express my deep gratitude to our hosts here in Tyrnavos and the military and civilian authorities of Greece for the excellent infrastructure, cooperation and support to this multinational military formation.
SEEBRIG has proven itself as a valuable asset and an efficient platform for collaboration among the participating nations, and has become a role model for other countries during all these years. Athens Chairmanship objective will be to work in order to increase SEEBRIG operational readiness and explore ways to fill the gaps in personnel and equipment.
In this context, the completion by Bosnia and Herzegovina of the internal ratification procedures for full accession to the Multinational Peace Force South East Europe agreement and the encouragement of other SEDM countries to contribute to the SEEBRIG efforts, will be a valuable support to our initiative, demonstrating in practice our main message that the countries of our region have changed their status from '' security consumers '' to '' security providers ''.
Brigadier General Faruk METIN, please accept my appreciation for your valuable services in your position as the brigade commander. I wish you the best of luck and great success in your new duties.
Brigadier General Tudorica PETRACHE on the occasion of the assumption of the duties as SEEBRIG Commander I wish you success in fulfilling your new mission and its demanding tasks.
Last but not least, all our actions and endeavors over the next two years will be governed by the words of Aristotle ''friendship is essentially a partnership'', which are also the motto of Athens Chairmanship.
Thank you for your attention."